Published 10/10/23 at 6:24 p.m.

By Oregon Coast Beach Connection staff
(Yachats, Oregon) – Far down to the very center of the Oregon coast, just past Yachats, there's a monster churning and wriggling. (All photos Oregon Coast Beach Connection)
Below the gaze of towering Cape Perpetua, this giant crack in the earth is usually in a raucous and churning mood. Waves are carousing and chaotic, bouncing and careening into the rockface of this narrow basalt slit, never failing to mesmerize. One big one comes rolling in, smashing from side to side, only to be followed by another.
These watery behemoths spill over the sides, always dramatic; indeed even histrionic. They're trying to get out and making quite a ruckus noise as they do so. Occasionally, there's trapped air in the midst of these and you get a massive clapping sound. Find the Devil's Churn Trails, Pathways
The Devil's Churn magnifies its own effect – and thereby likely its own demise. It gets narrower as it leads inward, causing the waves to compress their energy, and they often lead to more explosions at the far end. All that wave energy over the millennia has caused the erosion of this spot in the first place, likely starting with just a few cracks. Now, that squeezed-together wave energy is even stronger here, every-so-slowly widening the Churn.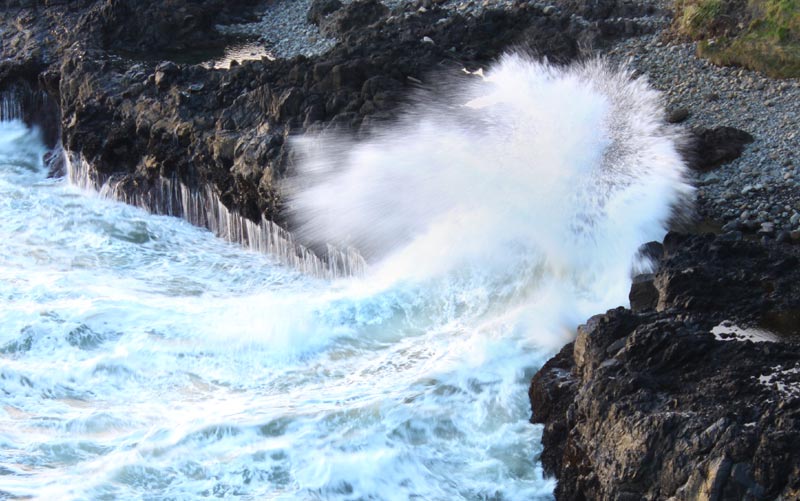 Normally, even fairly calm conditions make for unpredictable, wild action at the Devil's Churn, only a few miles south of Yachats. It takes extremely calm waves to cool this place down. When that does happen, it's kind of trippy, and there can be a soft, ethereal glow on these waves.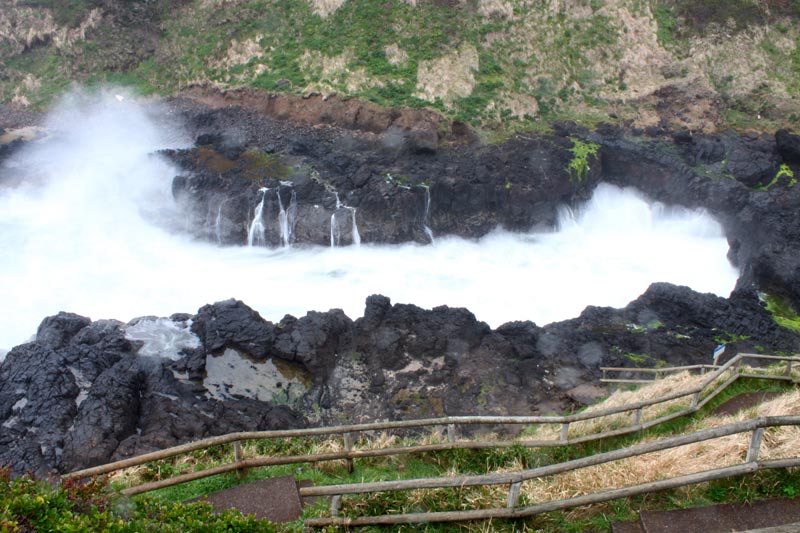 There's also plenty of danger here. One man lost his life several years back trying to jump across the sizable crevice. You can't do that, no matter how nimble you are. Then there are those who wander the back area of the Devil's Churn, which you simply should not do. The big waves here are so unpredictable, and if you notice the massive logs piled up here, this should be a warning how powerful the waves are.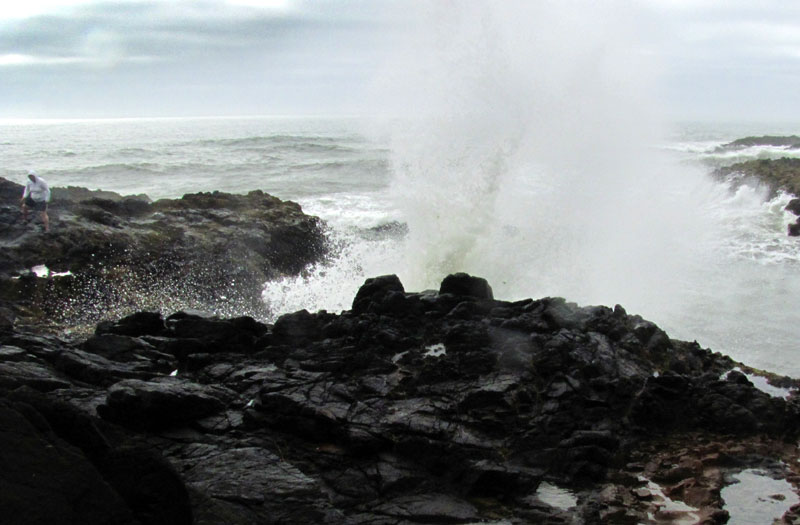 A couple runs from a giant wave that winds up hitting them: be cautious here (the other person has already run out of frame)
What you see here is likely the oldest basalt visible on the Oregon coast, clocking in at around 35 – 38 million years old. All of this area from Yachats down to Sea Lion Caves comes from at least one volcano, if not more – but you can see the primary lava-maker right above you from Devil's Churn. Cape Perpetua is the main culprit behind all this black stuff, lava frozen in time after it cooled.
Next to Devil's Churn About Cape Cove Beach: Unique Spot Only Exists Half the Time
What is called a shield volcano (cone-shaped), was likely underwater at the time, firing off numerous times over millions of years before petering out around 30 million years ago. Its lava spread for miles and miles around it, and geologists believe these layers go thousands of feet deep. See Yachats Geology: Wonders and Frights of Central Oregon Coast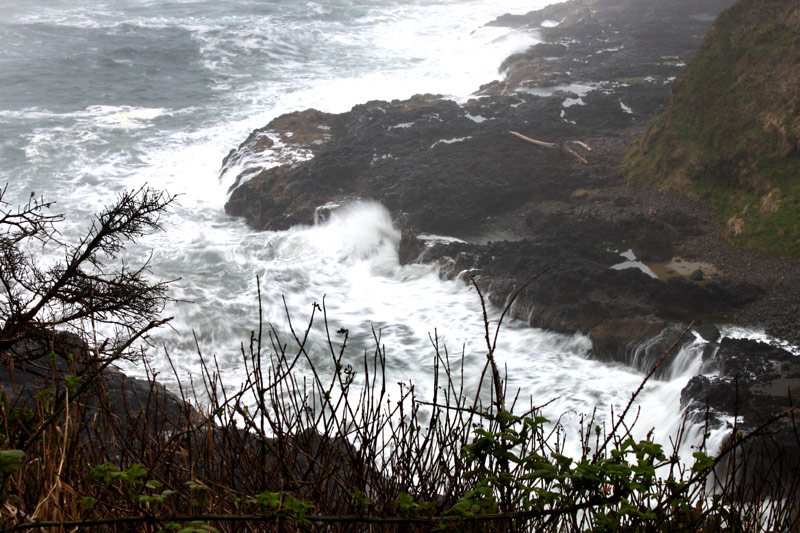 That's right: Cape Perpetua itself was a volcano: a big, fiery, pointy thing that was ouchy (to put it with a bit of humor). It's extinct and can never erupt again, but as it towers over you while walking the edges of the Churn, you might take a look up and imagine all that fiery stuff oozing above.
It's humbling.
Fast forward a bit more into the Cape Perpetua history, it's interesting to note how everything along the Oregon coast was underwater numerous times over the last several million years, actually lifting up sometimes and then back down. This, along with major climate changes like the ice age, created different looks to the place. According to Seaside geologist Tom Horning, there were once sand dunes all over this area, piling up as high as where the visitor center is now on Cape Perpetua.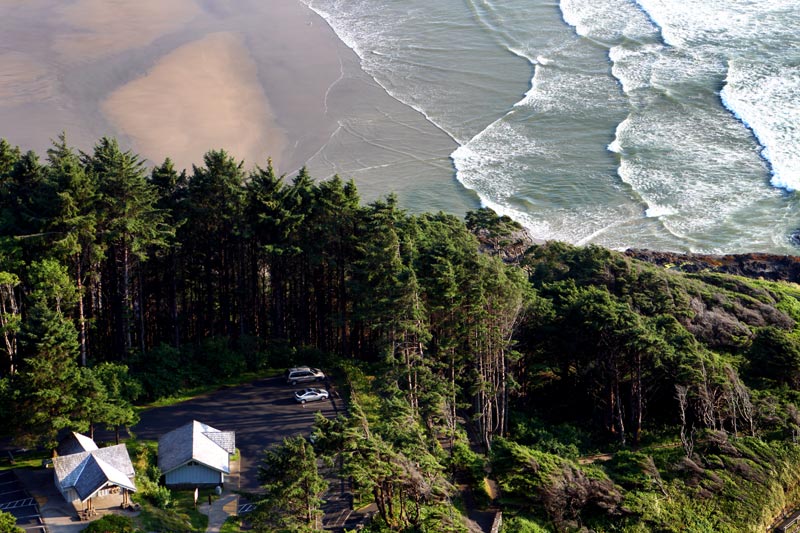 Sand dunes were way up here once, say geologists
That means for thousands – maybe millions of years – the Devil's Churn was not visible.
Now, the Devil's Churn is slowly eating itself. Whatever erosion caused it is just hastening. One day, probably far in the future, it will be like Cape Kiwanda is now: slowly falling apart before our eyes.
Oregon Coast Hotels in this area – Where to eat – Upper Lane County Virtual Tour, Map



More About Oregon Coast hotels, lodging…..
More About Oregon Coast Restaurants, Dining…..

LATEST Related Oregon Coast Articles
Back to Oregon Coast
Contact Advertise on Oregon Coast Beach Connection

All Content, unless otherwise attributed, copyright Oregon Coast Beach Connection. Unauthorized use or publication is not permitted